All About Our Many Medical Facials… What Can a Facial Do For Your Skin?
Advanced Facials & Skin Care In Rocky River, OH
Dealing with wrinkles can be frustrating because they are unwanted symptoms of aging. As we get older, we lose volume in the face, which causes sagging and wrinkling to occur. You may also just want a plumper look if you feel like your lips are thin and you're looking for more volume. Facial fillers can help fill in this lost volume and give you the youthful look you've been dreaming of.
Smoothing Wrinkles with Facial Fillers
Facial fillers are often used to restore lost volume in the face and combat unwanted wrinkles. This can be used almost anywhere on the face and is typically done on the cheeks, under the eyes, and lips. Your dermatologist can help you address your problem areas and get you the results that you're looking for. Facial fillers can be used to address wrinkles, make your face more symmetrical, and add volume to the lips or cheeks.
Facial fillers are a minimally invasive procedure and take very little time. Usually, the procedure is done within an hour and there isn't any downtime associated with facial fillers. You may experience some swelling that should go down within a few days. Facial fillers are injected into the problem areas to fill out the gaps and can smooth out your wrinkles.
Facial fillers can last for months, depending on where they're injected, and the type of filler used. You may need to get touch-ups if you're looking to maintain your results for a prolonged period of time. Before getting facial fillers, your dermatologist will walk you through the procedure and ensure it's the best option for you.
Contact Your Dermatologist Today
Find out how you can plump up your skin and get the youthful appearance you've always wanted! Contact your dermatologist at The Fountain Clinic in Rocky River, OH to learn more about facial fillers and how they can help you at (216) 503-8517.
---
Our "Menu" of Medical Facials
The Fountain Max Facial
The Fountain Max Facial is our most advanced facial/chemical peel. Imported from Italy, we are one of only a few
in Ohio who offer this treatment. The results are both immediate and finalize in three days with a mild peeling of
the skin. The color correction and surface restructuring of this facial are un-paralleled. The treatment includes
a night-time serum and moisturizer to be used for a week after the treatment.
Custom


Our facial treatments are ALWAYS customized to your skin type and concerns. Facials start with a deep, thorough cleansing. Exfoliation and pore extractions are done as necessary. A variety of masques treat skin conditions such as acne, uneven pigmentation, and sensitivity.
Microdermabrasion
Microdermabrasion is an effective and painless cosmetic procedure which mechanically removes dead skin cells, leaving skin's surface smoother and brighter! This treatment is effective for scarring, blemishes, deeper wrinkles, and dullness.
Chemical Peels
Chemical peels penetrate into the skin itself and weaken the inter-cellular matrix. This activity of chemical peels enables the skin to slough itself more rapidly and cleans out the lining of pores. A variety of different peels are utilized to provide beautiful, reliable results for any skin concern. Peels are ideal for acne-prone skin and to speed up and cell renewal in sluggish, aging skin types.
LED Red Light and Blue Light therapy
Add the latest skin rejuvenation and anti-aging therapy to any of the above facials with our new LED Red Light and Blue Light therapy. It is painless, there is no "down-time." The results are seen in one to two weeks.. The skin is smoother and "glows." The Red-Light therapy is relaxing and therapeutic. Ask our aesthetician, Victoria, about the many benefits of adding this treatment to your facial.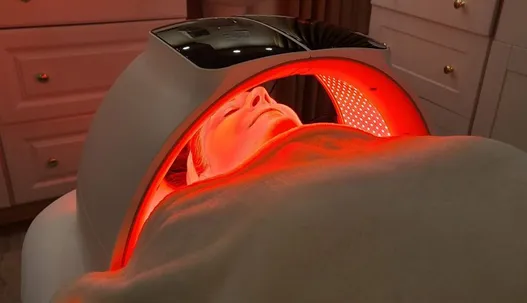 ---
Skin Care Products
Image Skin Care:
The Fountain Clinic - Rocky River Med Spa has a full line of Image skin care products. These products are medical-grade and are not sold in stores.. Expert knowledge is crucial for getting the best results. Our staff has used all of these products and knows which product will give you your desired results.. Replacement supplies of products can be conveniently ordered over the phone and shipped to your home with a minimal shipping fee.
Victoria, our aesthetician, uses many Image products in her facials and chemical peels.
Obagi Skin Care:
What's your skin care concern? Transform the look of your skin with clinically supported products that deliver. Obagi is one of the most corrective skin care lines with proven results. Obagi offers customized solutions for specific skin problems such as aging, acne, dry and dull skin. Experience the transformation to healthy-looking beautiful skin!
Free VISIA Skin Consultation!
The Fountain Clinic - rocky River Med Spa uses the VISIA system, shown above to document and identify skin problems with a free consultation. Areas of concern are discussed and mapped. VISIA skin analysis is an innovative 3D imaging of your skin- a $75 value! VISIA facial skin analysis is an in-depth analysis of a person's skin. It analyzes six specific elements to reveal the overall skin health. The six elements include: Wrinkles, Spots, Pores, Texture, Porphyrins, and UV spots
Benefits of a VISIA Skin Analysis:
VISIA facial skin analysis measures the effectiveness of a particular skin treatment and checks whether the treatment is working properly. Based on the results obtained from this skin analysis, decisions are made whether to continue the particular treatment or prescribe another type of treatment.
Victora Kilarsky, our Advanced Medical Aesthetician, and Dr. Birchall can make recommendations on improving the health of the skin by evaluating the results of VISIA facial skin analysis.
VISIA facial skin analysis helps to determine potential skin problems before the problem grows worse. Men and women should consider VISIA Facial Skin Analysis as part of their quarterly health regimen.